She doesn't want to share her sister friends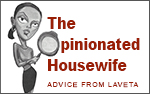 Dear Housewife:
My sister HATES for me to become friends with her friends. She wants separation between family/friends. I feel like friendships between adults don't have to involve each other. I don't care if she speaks with or hangs out with folks I whom I knew first. It makes her very angry. What is the big deal? I miss out on good friendships and professional connections. – In Need of Sister Friends
---
Dear In Need:  
Why are you knowingly engaging in behavior that you know ticks off your sister? If you know that your sister hates for you to befriend her friends, why continue to do it? I have a very simple solution. The Queen of Soul sang about it. It is called R-E-S-P-E-C-T.
Siblings should be sister friends
There are times we have differences of opinion and although we may not understand "what the big deal is," we are still obligated to respect the feelings of others. I would recommend that you evaluate your feelings for your sister. I'm sure you have told your sister on more than one occasion that you love her. Unfortunately, your actions belie that. Love is patient and kind. It is not jealous or boastful or proud or rude. It does not demand its own way. In my humble opinion, you are falling down on the job in some of these areas. Are you really so self-centered that you are willing to jeopardize your relationship with your sister in an effort to advance your social and professional life? You owe your sister an apology. Remember, blood is thicker than water. Who do you want to be at your side when you are on your deathbed? More importantly, who will most likely be there for you: Your sister, a Facebook friend or your business associate? Think about it, and do what's right. Featured Photo © Canstock Photo
Leave a Comment