After divorce, can he be friends with the ex?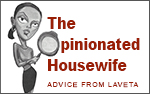 Dear Housewife:
How do you handle friendships when there is divorce (i.e. one of your good friends divorces his spouse, but you and the spouse have become friends)? Can you remain friends with the ex?
– The Third Wheel
---
Dear Third Wheel:
Just because your friends filed divorce papers with one another doesn't mean that you must file also.   I think that you should make it clear to both of them that you value their friendship and would like to remain friends with both of them.  Be prepared that one party may object to your decision and may choose to distance himself/herself from you.  Let the ex go in peace.  Do not put a fight.  This response may be a blessing in disguise, resulting in less drama.  However, if both exes are fine with it take the extra step of defining topics of discussion which are off limits.  You must be a neutral party.  Do not allow them to pump you for information about the other, share gossip, etc.  You do not want to unwittingly add fuel to the divorce fire!
---
(Featured Illustration Jim McHugh. Photo © Diego Vito Cervo Dreamstime.com)
Leave a Comment